SANFORD, Fla. January 14, 2022 --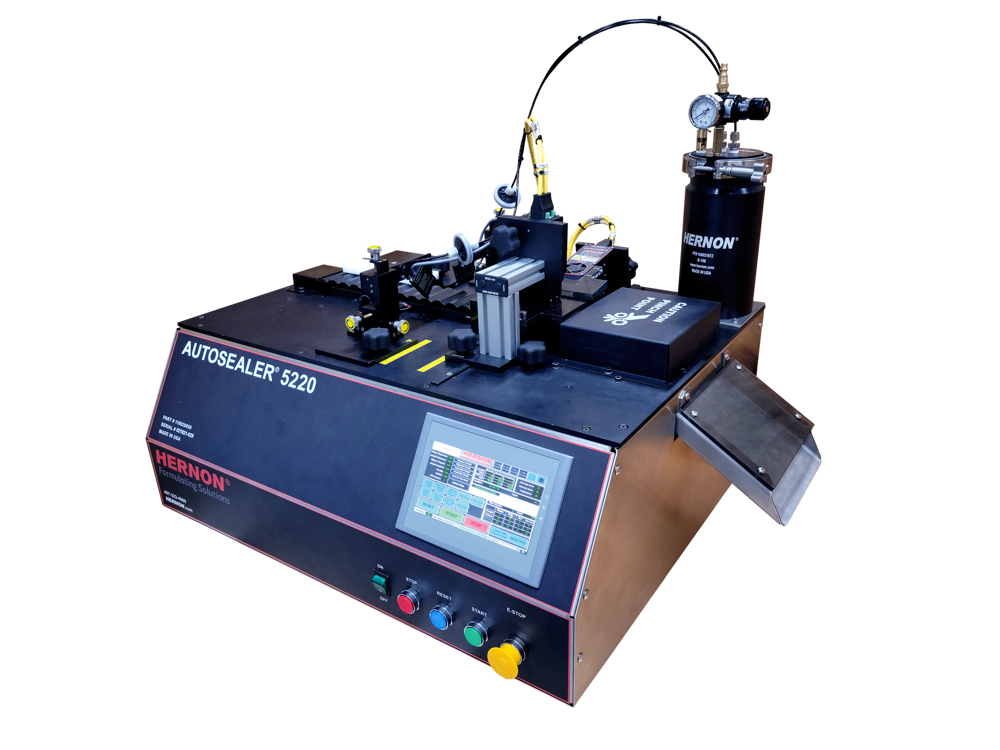 Hernon is pleased to announce the presentation of their unique bench-top ammunition sealing system at booth 40321 at the SHOT Show. The Autosealer 5220 is designed to support small-batch manufacturing and R&D projects. The system offers the same Sureshot jet dispensing technology and Ultracure UV LED curing lights used in Hernon's larger industrial scale sealing systems in a condensed package. The Autosealer 5220 processes parts at up to 20 parts per minute and supports up to .50 caliber.

The benchtop system is manually loaded by the operator and automatically aligns the cartridges into position for dispensing. After dispensing a wicking sealant onto the case-mouth and primer, the exposed sealant is cured in place using intense LED curing lights. Any non-exposed sealant cures anaerobically and the sealed ammunition comes off the machine ready to be handled, tested, packaged, and shipped immediately.

Hernon is exhibiting the Autosealer 5220 in response to longstanding requests for a smaller more economical version of Hernon's ammunition sealing technologies. This new machine will support every tier of ammunition manufacturer. "This small-footprint ammunition sealing system is particularly compelling to manufacturers seeking to seal a submission batch of ammunition for government contracts". – Gavin Petersen, Commercial Director. Ammunition manufacturers can meet with Hernon representatives and see a demonstration version of the Autosealer at booth 40321 on floor 1 of the Venetian Expo at SHOT Show 2022 in Las Vegas.

Hernon was founded in 1978 and manufactures high-performance adhesives, sealants, as well as UV, LED curing lights, and precision dispensing equipment. With over 5,000 unique formulas and dozens of dispensing and curing products, Hernon's merchandise is utilized in a wide variety of industries for large-scale manufacturing and MRO activities. Hernon is based out of Sanford, FL., and ships to over 70 nations worldwide through a network of distributors and partners. Learn more about Hernon Manufacturing, Inc. and its custom solution process at Hernon.com.

Please direct any media inquiries to Drew Richards: drewrichards@hernon.com, 321-257-6319.